The collection of DNA samples will expand to all wolf pack territories during the project. DNA samples help to estimate population sizes in more detail. Volunteers will be trained to collect samples.
Both researchers and citizens need information about the movement and reproduction of wolves. Where are the boundaries of a pack's territory? Is the pack growing? Has the same wolf been here before, or is it just passing through? Where has this young wolf come from? All these questions can be answered by using DNA samples.
All wolf territories within the scope of DNA monitoring
The most common way to collect DNA samples is to use wolf faeces, while samples can also be taken from wolf urine in the snow or from a bite mark on a caught animal. Tissue samples can be collected from wolves that are found dead or killed through an exemption.
In Finland, wolf DNA samples have been collected in the wild since 2013. When the LIFE BOREALWOLF project started, comprehensive DNA samples had only been collected from part of Finnish wolf territories. During the project, the collection of samples will expand to all wolf pack territories.
Together with wolf observations made by contact people for large carnivores and fieldwork carried out by researchers, DNA samples help to make estimates of wolf packs. A specific goal of the LIFE BOREALWOLF project is to study which wolf pairs reproduce and where the wolf population is expected to grow.
LIFE BOREALWOLF trains volunteers to collect samples and is engaged in international cooperation
Currently, DNA samples are collected by Luke's field workers and a group of volunteers, such as contact people for large carnivores, hunters and others who enjoy being outdoors. The LIFE BOREALWOLF project trains more volunteers to collect DNA samples in the wild.
Results of DNA monitoring are already being shared in the luonnonvaratieto.luke.fi service (former riistahavainnot.luke.fi). During the project, the service will be developed in a more user-friendly direction.
The LIFE BOREALWOLF cooperates with other countries to develop DNA monitoring. Finland's wolf population is important to our neighbouring countries, especially to Sweden and Norway. The immigration of wolves from Finland to Sweden and Norway is a key factor. Through wolf immigration, the hereditary diversity of the Scandinavian wolf population increases, while inbreeding decreases. Information exchange and cooperation with Russia is important, as wolves sometimes cross our eastern border in both directions. Furthermore, DNA monitoring is also being developed in Central Europe.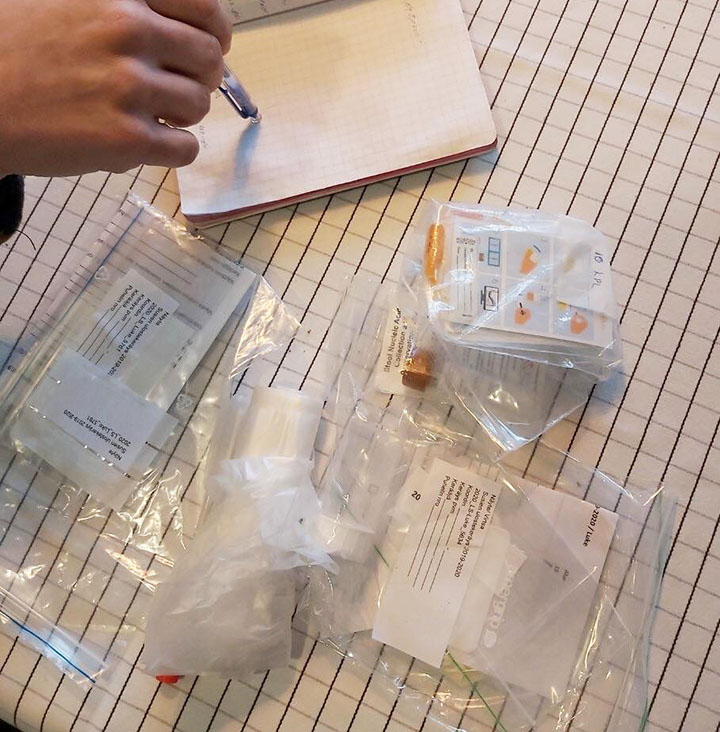 Tools needed when collecting samples: plastic bags, protective gloves and tags. © LIFE BOREALWOLF
Schedule and outcomes
Information about DNA monitoring and its results will be shared on a regular basis during the project.
In 2020, a detailed plan on the development and expansion of DNA sampling will be prepared. The plan will be prepared in cooperation with specialists from our neighbouring countries and other European countries. During autumn, new volunteers will be trained, and a new sampling period will begin. Every year, the sampling period will last from November to February.
Starting from 2021, current contact people for large carnivores can train themselves to become collectors of DNA samples. DNA sampling will be included in the training material intended for contact people for large carnivores.
During 2022, a technical report on the development and progress of DNA sampling will be written.
Between 2023 and 2025, DNA sampling will be expanded to cover the whole of Finland, one territory at a time.
After the project, annual DNA sampling will have expanded to all wolf pack and pair territories. DNA monitoring will specify estimates of the wolf population.
Would you like to collect DNA samples?
Unfortunately the training is currently in Finnish. If you interested in collecting DNA samples, send email to susilife@luke.fi.
Would you like to read more? Click the links below for more interesting information:
Genetic methods help researchers identify wolves (suurpedot.fi)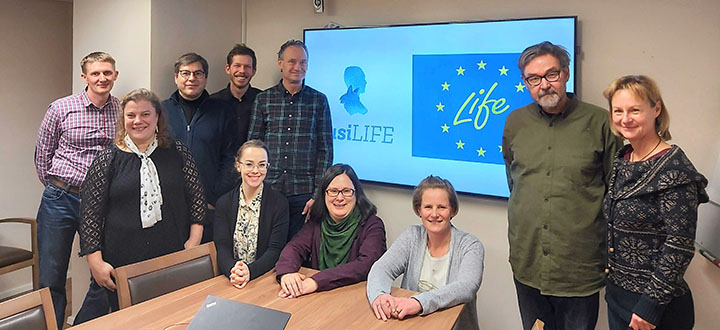 The development of DNA monitoring started in January 2020 by exchanging ideas and information with international researchers and specialists. © LIFE BOREALWOLF
Cover photo: © Vastavalo / Niko Pekonen